Best IPhone Cases to Have in 2023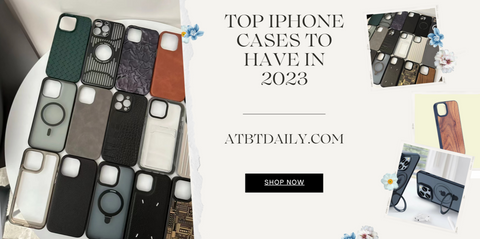 You might be thinking, "I'm already looking at some of these cases!" But it's important to know what's out there in terms of case types. We've done the research for you and compiled a list of five different types of cases that will make your phone look good (and keep it safe). All these cases have options for all models of iPhone 14/13/12/11/XS/XR/Xmax
iPhone Cases to Have in 2023
Real Wood IPhone Case, IPhone Case Magsafe with Foldable Stand, Suede-like Alcantara IPhone Case, IPhone Wallet Case Black Minimalism Style, IPhone Case Black and White Artificial leather
These cases have simple design that never get old, good quality material, comfort in touch and affordable price.
Some of these cases have other functions of phone stand, card slots and Magsafe, which satisfy uses cases that are popular today.
#1. Real Wood IPhone Case
This is one of the best cases available in the market. It's made of high quality real wood that is durable and protects your phone from scratches. The case has a design that is simple, elegant and beautiful which makes you feel like touching it. The natural wood grain looks great on your iPhone 7 or X model with a smooth finish so you don't have to worry about the dirt getting stuck inside or having any marks left behind when removing it later on.
#2. IPhone Case Magsafe with Foldable Stand
The second case on our list is the Magsafe. It's a magnetic charging cable that can be used to charge your iPhone in the car or on a desk while you're working. This foldable stand turns into goodlooking circle when folding down and perfectly blend itself with the case. You can also use this foldable stand to watch movies or play games while driving, as well as listen to music and make/receive calls!
#3. Suede-like Alcantara IPhone Case
Suede-like Alcantara IPhone Case

Soft to the touch. It's made from a synthetic suede material that feels incredibly soft and luxurious. This case comes in several colours, so you can find something that fits well with your style.

Durable, Alcantara is made for the high end sports car interior and it has been used extensively by Ferrari and other luxury car manufacturers over decades. It's water repellent as well - perfect if you plan on taking your phone out in rain!

Easy to clean: just wipe away dirt or spills with a damp cloth (or even easier - take it off). No need for washing machine here!
#4. IPhone Wallet Case Black Minimalism Style
Simple, sleek and never get old. It is lightweight, easy to carry and perfect for everyday use. It's a classic, and durable material that prevents damage and scratches to your phone, but still maintains its sleek appearance. It has a magnetic clasp, which makes it easy to close and open the case. The case is made of synthetic leather, so it's durable and can protect your iPhone from scratches and damage.
The wallet has card slots and cash pocket that allow you to store up to six credit cards or IDs in addition to cash (up to $200). You also have access to all three sides of your phone when using this wallet - there are no hidden buttons or features that make opening/closing difficult!
#5. IPhone Case Artificial Leather Black & White
This sleek, lightweight case adds barely any bulk to your phone. A perfect fit for maximum protection against scratches, drops and bumps!. It is suitable for black iPhone, which can be used to show off your fashion sense or simply to protect your phone from scratches and dust.
The case comes in two colors, black and white, so you will have the choice of whether you want to go for something more classic or trendy at any given time.
Conclusion
The future is here and it looks like it's going to be amazing! The next few years are going to be full of new innovations and technologies that will change our lives forever. One of those things is the iPhone case industry. Here at ATBTDaily, we've been busy sourcing some of the best cases ever made for your phone in 2023! So let's check them out: